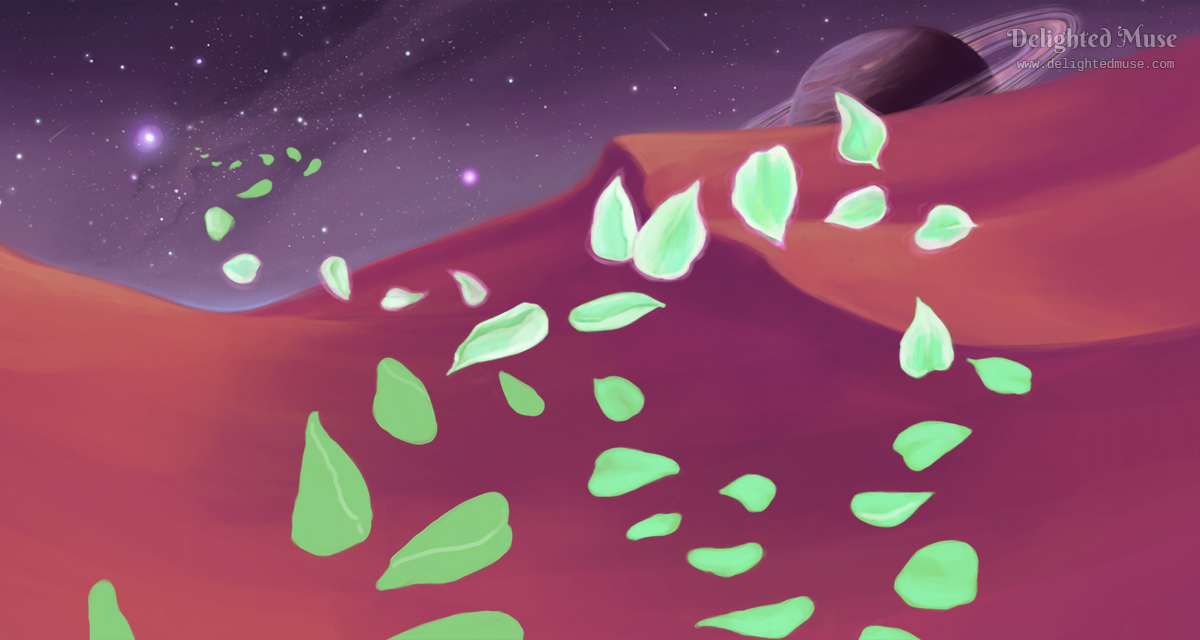 Petals (Otherworldly Winds WIP part 3)
This digital painting is taking way longer than I anticipated! I'm hoping the weekend will give me enough time to finish it up. Of course, it just had to be on one of my "practice size" canvases (2000p by 2500px). At least it's at 300 dpi and still big enough to print a 6×8″ art print, if I decide to do that. Though a little cropping on the sides and bottom will occur. Whenever I create a new canvas and think "oh this will just be for practice, let's keep the file size smaller" I should just not do that.
Maybe I could keep a single practice file with multiple layers of sketches, so I don't feel like I'm needlessly creating lots of PSDs just for practice? Though…maybe I am just being old fashioned about file sizes and storage. I still have 1.6TB of space on my HDD drive. If I am increasing my digital painting output so much that storage becomes an issue, I can invest in another disk drive. So maybe this will be one of the last times I paint something I can't really print. Like, ahem, my favorite mask of the muse painting being barely big enough to print on a business card. >_<;;;
Anyway, the petals on the painting are sort of turning out how I pictured? A kind of bioluminescent glow. I'm not sure about the color, but I'm so not sure what other color it could be! First I will render them all to be glowing and then tweak the color overlay. Maybe I can add a shimmer to the petals that echos the stars in the sky?
Well, it's 22 minutes til midnight. Today was another long day. I'm glad I still captured some of my art practice in my blog. Yesterday I finished out my sketchbook page that had the eye and leaf doodles, but it didn't feel like enough to blog about. And I just wanted to rest a bit and read. I think taking a night off every once in while really is important.
Tonight I watched Marvel's Runaways on Disney+ while I painted. I loved reading that comic when I was a senior in college circa 2007; it's fun to see how the series was updated for 2017. It might be too late tonight finish watching the episode I paused. I can't stop yawning, so maybe that's a sign to go curl up with my book.
'Til next time. <3