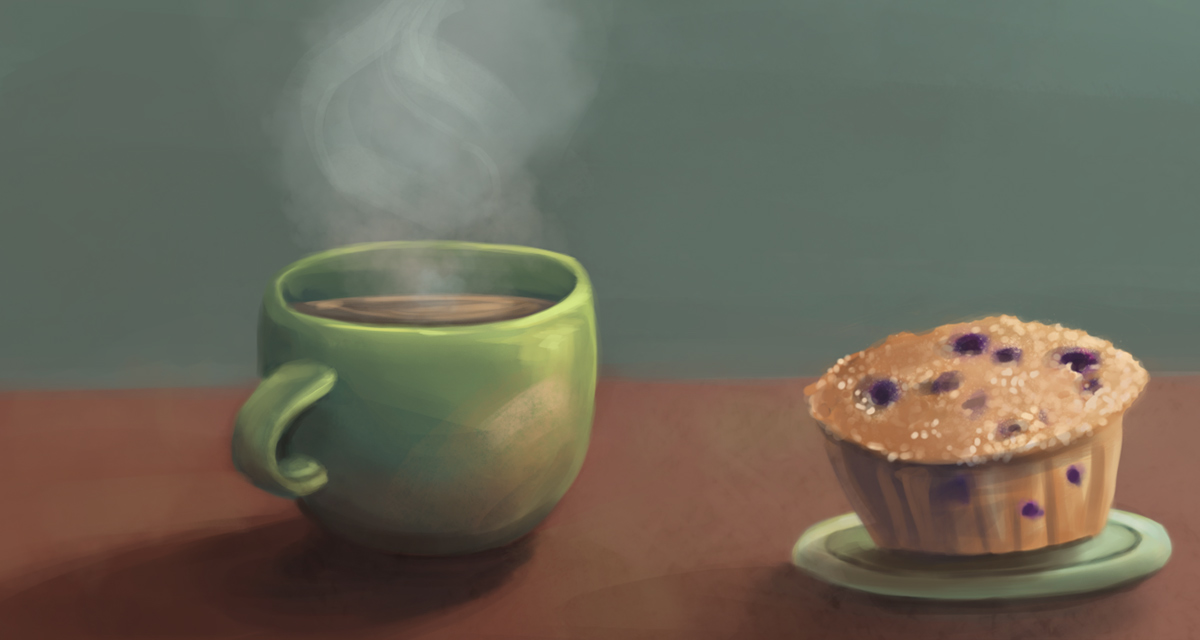 Painting practice: coffee and a muffin
This little painting was from last night, while I caught up on watching Critical Role episode 121. I just wanted to sit down and paint – no real idea, no plan for composition and color. And yeah, it shows, but I also had fun, so I don't mind. And I sooo crave blue berry muffins. I miss my weekly cafe trips pre-Covid. Baked goods and coffee is 100% one of my top happy places. Just *chef's kiss*
I suppose I was also inspired by my last post of my coffee cup photo study. This one, yeah, no references for the cup except like…I had a mug on my desk that looks quite different (straight cylinder shape, very flat handle), but looking at the perspective of its handle compared to my painting was helpful. The muffin I looked at a couple recipe photos for inspiration.
The steam was one of the most enjoyable parts. In fact…🤔I bet I could rank my favorite moments:
The bright highlights on the rim of the cup. Highlights are always just… you have to be patient before you can put them in, but they make me so happy T_T
The occlusion shadows, where the cup and plate meet the table. Occlusion shadows are right behind highlights in satisfaction-level.
The wavy, puffy steam ;3
The dark blue berry spots on the muffin.
The sugar sprinkles *drool* (okay I don't think they turned out great, rendering-wise, but I love them because sugar.)
Do I wish I'd had a better plan/color scheme? Do I wish the composition wasn't so horribly flat? Sure. But it's the fact that I practiced that was important! Gold star, I say! ⭐
I also used a bunch of random brush sets that I don't have great practice with: Charlie Bowater's 2017 free set from Gum Road, Loish's set from DeviantArt, the Ctrl+Paint basic 3 set, and a couple of Istebrak's dry brushes. I didn't have a plan for brush-use either, so it was 100% chaos and whim. Chaos and whim I can handle, as long as I'm practicing!