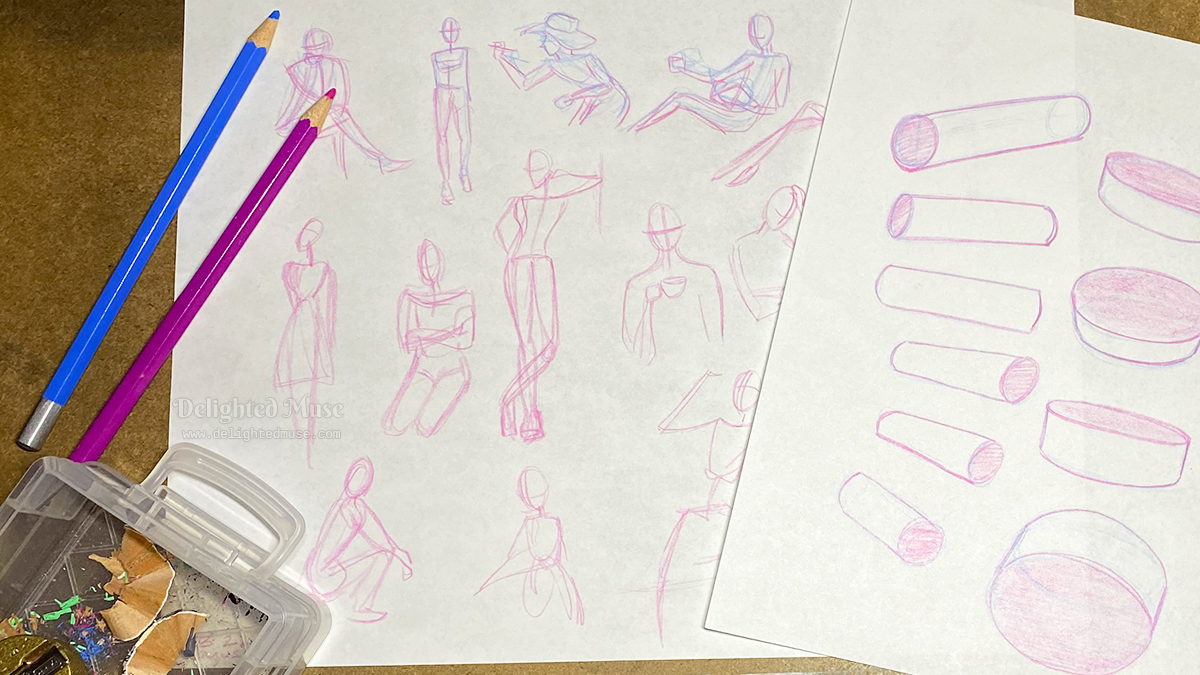 Drawing drills for a chaotic day
When I signed off my blog post last night, looking forward to relaxing and being refreshed for tomorrow, I jumped in the shower and got ready for bed, knowing I had taken today off. I had visions of how productive I would be, both with housework and art. And then, 12:30am, we wake up – "What's that dripping noise?" Oh, its water, dripping in from under the top window trim. Joy. That set the tone for today!
It wasn't a lot of water last night, but Ricky went out and broke off the icicles that had adhered on the exterior of the bedroom window. And we mopped up what we could and jammed paper towels between the trim and the blinds. Like I said, not a lot of water. And not much we were willing to do after midnight when we were both tired.
But in the morning, oh so much more water, dripping and raining down onto the hardwood floor.
We know our gutters need replacing, but we were really hoping they would hold out through this winter until we could change them in the early summer. Bah! We'd even been talking about ice dams a couple weeks ago, as we'd thought it might happen on the other side of the house. But, oh no, had to happen right above the window which is above our bed's headboard.
Ricky originally had today off too – we coordinated, yay! But he had sysadmin stuff that came up in the afternoon and was only going to take a half day. Which meant we had to hurry this morning on getting the stupid ice dam that had built above our bedroom window dealt with. We cleaned up inside, moved the bed, and put plastic tubs down. Ricky broke up the ice and shoveled the roof (sigh). It was tough enough that after his sysadmin stuff, he took the afternoon off to finish dealing with hammering at the ice with a crowbar and mallet while on a ladder. I assisted by making lots of hot tea and washing all the towels we used in cleaning up the mess.
I also shoveled our sidewalks free from all the snow that fell last last night. Which meant I did not relax my sore shoulder from yesterday. I made it worse and I pulled something in my other shoulder. My neck and both shoulders are on fire tonight and the Advil is not helping.
Fortunately, the ice dam/leak seems resolved now and no more water is dripping inside. Or maybe it just got cold enough it stopped melting. >_> I hope not. It's kind of a weird ice dam scenario (and maybe can't really be called one?). The water wasn't really getting in vertically from the roof above, but from an area of the first story which has no second story above it. That room's roof slants near the bedroom, and its gutter is at a 90 degree from the top of the exterior window. Large icicles had kind of melted out and into the window exterior. So, as far as we can tell, the wall itself seems fine. *knock on wood* (We want to swap plaster for drywall in the long term, but not in that room for the next year. Oh the projects of a new house…)
So, feeling that today was more draining than relaxing, I took my own pondering advice yesterday: I threw on a relaxing music playlist and did some low-pressure drawing drills. No way to screw it up and be tempted to start over.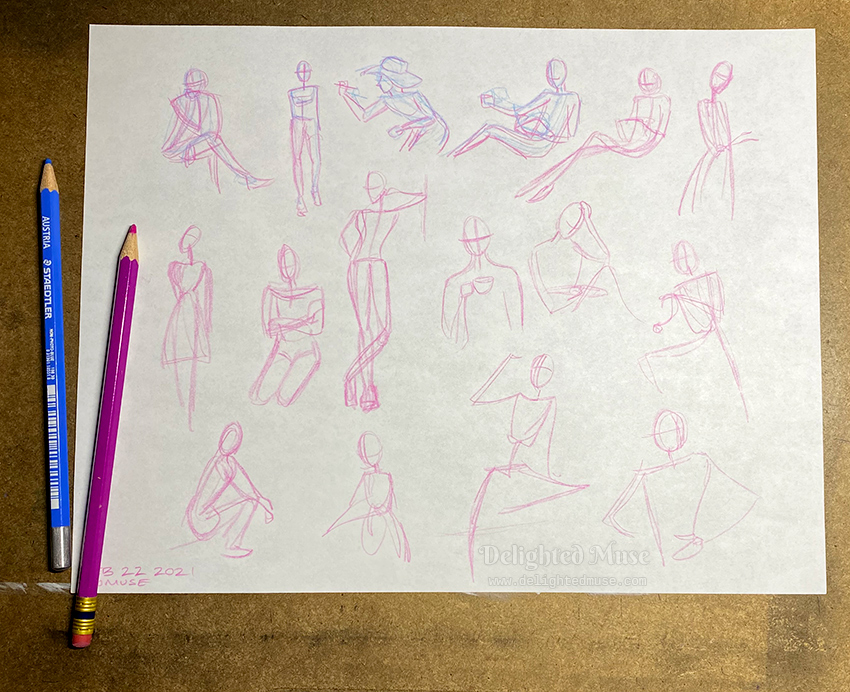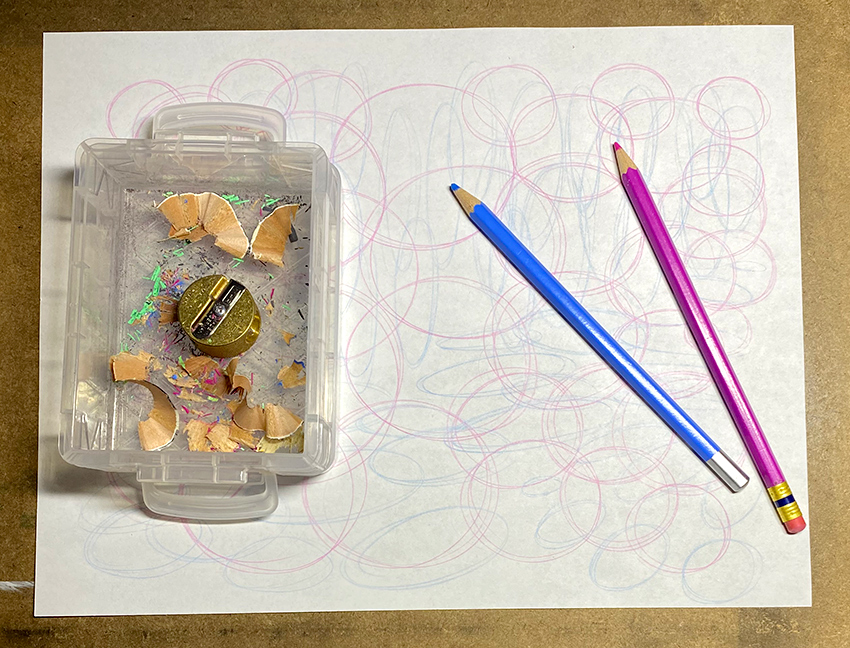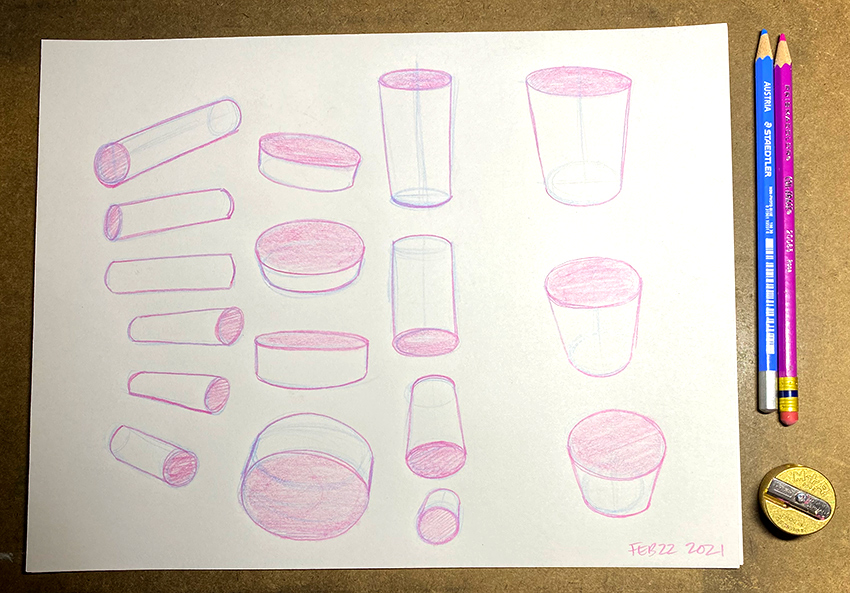 For the figure gesture drawings, I created a collection on Pexels of miscellaneous people photos. I'm hoping to use it more often for gesture drawings and add to it.
And that is all for tonight.
'Til next time. <3