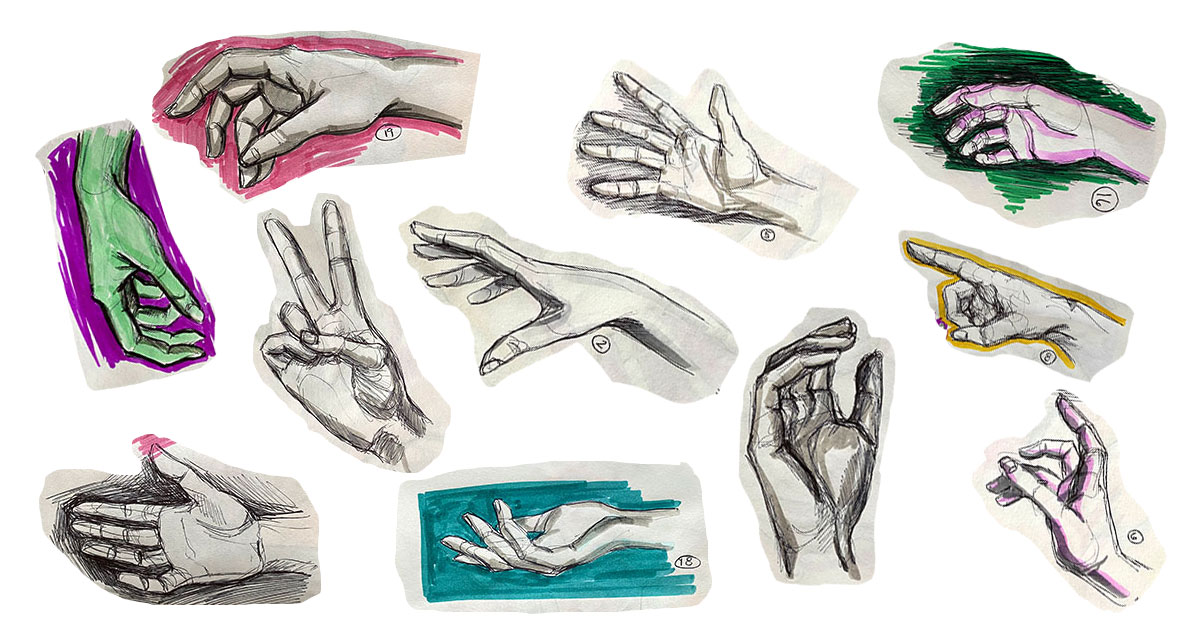 Sketchbook Pages from September
Long time no blog; I've been quite busy… ::drum roll please:: …moving!
After a long search, Ricky and I bought a house and are all moved in. I knew just the two of us moving all our stuff would be a challenge, but we managed. We did get help from Ricky's dad, which was necessary for the really heavy stuff, even with a hand cart/dolly to help. I was beyond exhausted and sore and bruised after the solid week it took us to move all our stuff. But I've also felt surprised, grateful, and curious for this new adventure.
I wasn't really letting myself believe it was real until after closing, having looked for months and planned for a long time before that. But now we're here, if not completely settled. Our kitchen stuff is mostly in the dining room while the cupboards and pantry wait empty and cleaned: we've been dealing with mice we didn't expect. Though given the age of the house (100+ years), I suppose I shouldn't be surprised. I am really, really hopefully we've taken care of the problem (no signs of mice for a week and a half? ::knocks on wood::), but it's hard to say! As many holes as we could find are now filled with caulk and steel wool, but let's just say a plaster-walled house has a lot of opportunity for little wall holes and some of older built in cabinets make it impossible to know for sure if we got them all. 🙁
Anyway – the drama of settling into an old house that needs some attention and love has been filling up most of my free time that hasn't been given to work. Yet I still have found some time for art, hooray! I've also built up a tidy backlog of art to share, including the next part of the "Mark Making" project.
For today, I thought I'd share some of my sketchbook pages from September. I finished my "Sketchbook No. 3" with very quick gesture drawings, some of which were part of the aforementioned "Mark Making" project. A lot of the sketches were messy and fast and I didn't feel like photographing them (beyond the col-erase ones I posted previously). I was happy to close the cover on that sketchbook – it took me way longer to fill than I had planned (I originally thought I'd finish it in Jan/Feb of 2019!). It's pages were thin and didn't take many mediums very well, so it felt very restrictive.
Now, I'm working to fill the little Midori pocket sketchbook I used to carry everywhere in my purse. It has all sorts of cafe/restaurant/park sketches that are so dear to me, now that Covid has made me realize how much those little relaxed adventures drawing in some random coffee shop meant to me. Or how lovely it is to sketch a crowd of people eating lunch and not feel worry and fear for what the future holds. So my Midori – "Sketchbook No. 4" as it's labeled – is extra special to me, as it has a subtle line between pre-Covid and present. The memories it captures for me are simple doodles and quick sketches, but they still hold a lot of meaning.
I chose to first focus on a bunch of hand studies, using reference photos from SenshiStock's 50 Hand Challenge Pack on Deviant Art (I highly recommend SenshiStock's reference packs!).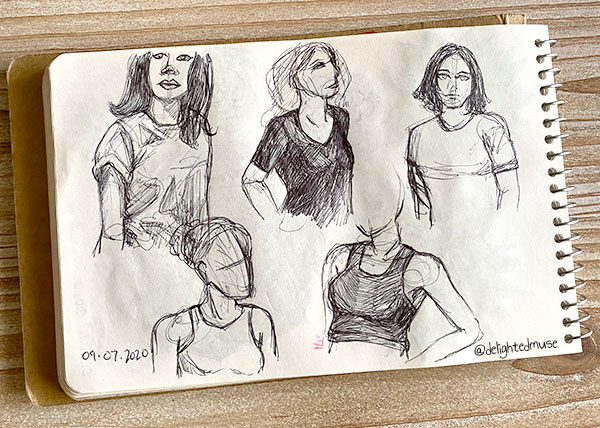 I also let myself play – not sticking to some preset drawing task list or expectations. So a skirt/costume doodle, some succulents to have fun with color, and some torso studies. And… feeling generally rusty about character art/faces. Meh and Ugh indeed.
Almost all of these pages were done while binging Jenny Nicholson videos on YouTube. She is hilarious in kind of deadpan humor way and her critiques of media are great. A+++, 10/10, would watch again. 😀 Having something to watch/listen to makes me soooo much more productive and motivated to keep drawing. I need to distract my inner critic to stay in flow, ha.
I still have a bit more to go in sketchbook No. 4 – and two more posts worth of September/October drawings in it that I've got ready to share. I've also started on drawings in a Canson XL mixed media sketchbook, so that I could play with watercolor and ink and not be limited by thin paper, as the Midori book doesn't hold up to many mediums well (and even ink takes forever to dry/smudges easily on it, grrr).
Meanwhile, I've started watching Outlander (a friend recommended it a while ago, and I'm finally indulging). It's made me want to read romance novels again – starting with the Merry Gentry series, which I read the first few books of back in… oh 2007/2008 when I graduated college. Looking forward to perhaps making it through the whole series. On the fantasy front, I'm nearly finished with God Stalk, which I've thoroughly enjoyed. And for sci-fi, I'm half way through Axiom's End, which is so good! Seriously, I didn't know what to expect, going into it, as I'd only just recently stumbled on Lindsay Ellis through Twitter, but I'm happy I took a chance and bought a copy!