Gesture Drawings to the Rescue
I was really struggling to get started drawing tonight. I opened my sketchbook, sketching and erasing the same figure like 10 times before just sketching and inking a couple of face studies. Those also felt sloppy and forced. Fortunately, given I didn't want to stay up too late tonight, the time crunch pushed me towards some quick gestures instead. And I really like how they turned out!
I hope I'm starting to capture more of a sense of space, rather than flattening out the figure. These were studied from Pexels photos, naturally. Sources starting from the top left head and moving around the page clockwise: one, two, three , four, five, six.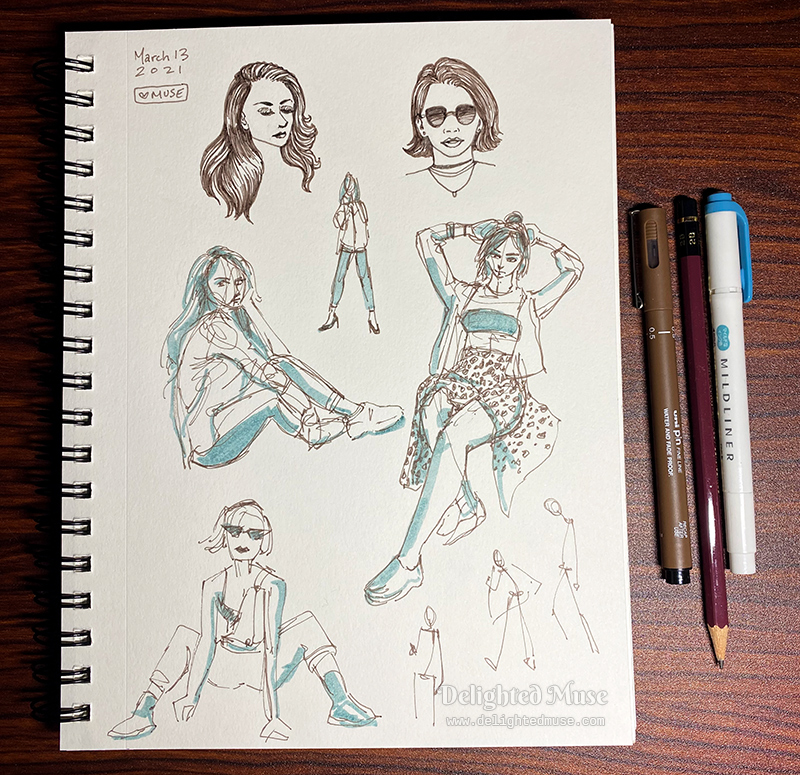 Today was a nice day: I got to sleep in, yay! After coffee, I ran into town for some carry out brunch to bring back home. DM'd a D&D game this afternoon that went well (and I'm starting to understand Fantasy Grounds encounter settings better!). Made yummy pizza for dinner (with premade crust, but still!), with goat cheese and artichokes and olives and Tofurky sausage slices. Tomorrow I'm *fingers crossed* planning to make veggie lasagna, but I also need to help Ricky with house repair stuff. Buying an old house is charming, but it's built up a lot of neglect over the years. :/
Now for the rest of the night… I still have time to perhaps do a few more gesture drawing pages while I finish watching Captain America. I didn't actually watch anything after signing off the blog last night – I felt so tired, I just got ready for bed. 😛
'Til next time.