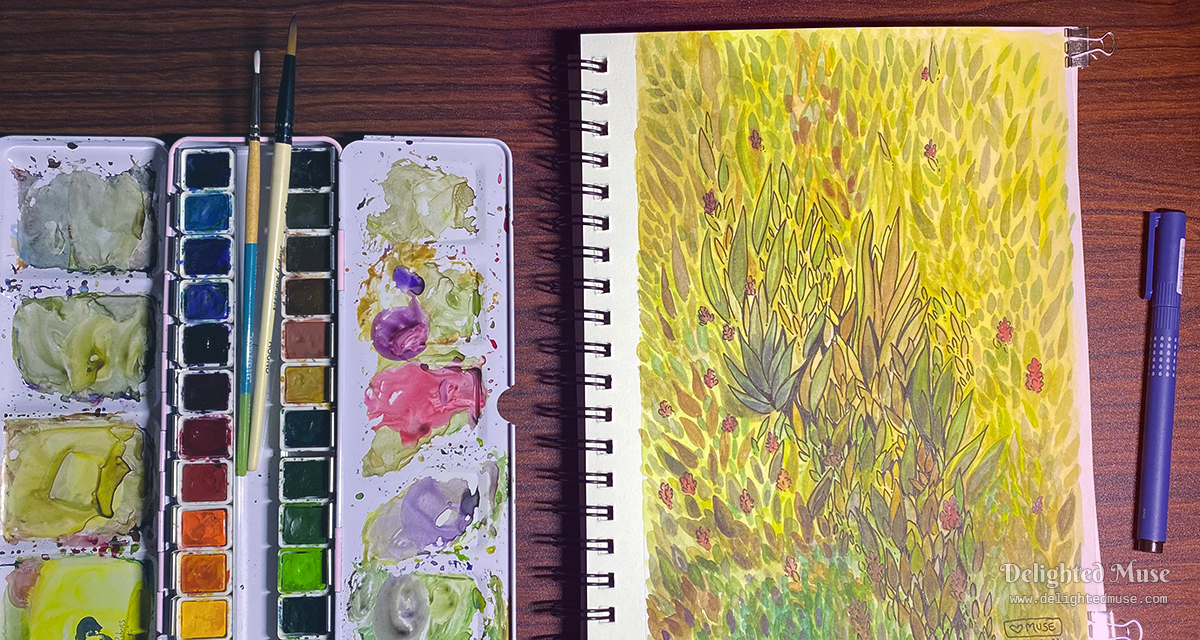 Taking the time yesterday to just relax and have a nice date night was much needed. I've been pushing myself to post here every day, and while I want to post as often as possible, there is a balance in creating and then resting to refill the well of inspiration. And coming back into the practice, I sunk into a nice intuitive painting: free from any plans or expectations. Leaf shapes are still my current artistic comfort-food of choice.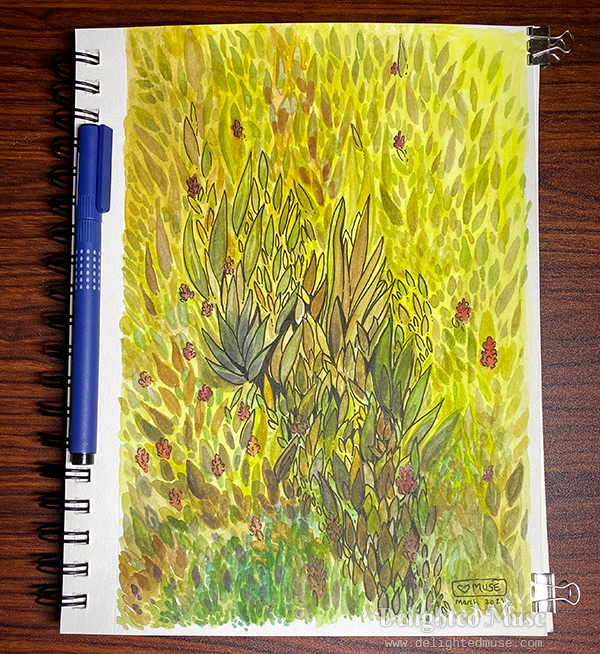 Last night after dinner, Ricky and I took a long evening walk around our neighborhood. It was chilly but not too windy. After, we watched The Stoughton Opera House's new "Almost Live" series happening Thursday nights on YouTube. Having been fans of going to the opera house in person in the past, it was a nice virtual date.
Work was quite energetically draining this week: a lot of intense group meetings that made it hard to feel like pouring more energy into my art each evening. But I started the leaf painting above on Wednesday and worked on it a bit late last night, before finishing it today. I'm happy that even though I wasn't able to finish something for the two nights I took off from blogging, I still flowed into my practice and spent a little time with my sketchbook.
Tonight I finished watching WandaVision; I really liked it! I've been kind of hit-or-miss when it comes to watching Marvel movies. I don't dislike them, but I have to be in the right mood, I guess. And most I caught in movie theaters with friends, so the stars had to align to catching a movie while it was showing.
I still haven't seen a bunch of the movies: none of the Iron Man movies, the Civil War one, Black Panther, the first Ant Man, Spider-Man Homecoming, nor Endgame. I've seen clips of some of them (and know spoilers, naturally). I thought I'd try giving them a watch through over the next couple months. I started tonight with Captain America: The First Avenger, but I'm only half way through. I might finish watching tonight…but I also was watching clips of Cowboy Bebop early this morning while making coffee, and I really want to give that show a rewatch! I feel spoiled for choices when it comes to stuff to watch while drawing or painting! XD
Yesterday a JetPens order of mine came in – it's my cheer-myself-up-treat. Really it was because I got an email that the Deleter tone knife and spatula was back in stock! Yay! But I also threw in a Mitsubishi Hi-Uni 2B Pencil and a Spirited Away No Face mechanical pencil. I'm going to try my hand at screen toning drawings, perhaps this Sunday! :O
For tonight, though, I think I'll do some gesture drawings with my new pencils. And decide between the rest of Captain American or Cowboy BeBop episode one. Choices, choices…
'Til next time.