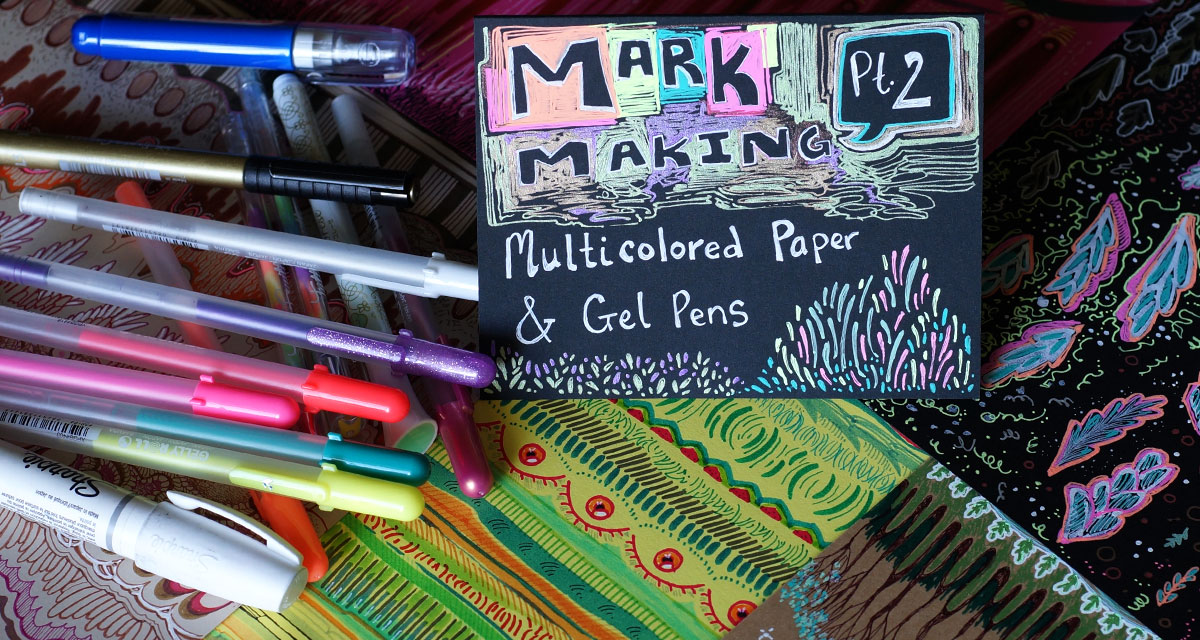 Mark Making Part 2: Multicolored Paper and Gel Pens
I love how white gel pen looks on tan paper. I think the first time I fell for the technique was watching Will Terrell's sketchbook videos on YouTube.
With my mark making project, as I became more comfortable, I began to seek out ways to experiment further – not just varying pens but also the paper. I have a bunch of multicolored card stock (you know, impulse buys when it's on sale at JoAnne Fabrics….). Card stock is so smooth to draw on, much better than the cheap copy paper or the lighter sketching paper I used for some of the other mark-making sheets. It has a satisfying paper weight. And of course, the effects you get with light gel pens is *chef's kiss*.
The black paper and neon colors brought back some serious nostalgia of middle school – I think I had a black paper spiral journal from like…Claire's or something. I have it on good authority that having Gelly Roll pens made you pretty cool. And they were harder to find back then! No nearby craft stores or Amazon or anything: I had to wait until the occasional trip to the nearest university bookstore an hour plus drive away. And maybe it was uphill both ways! ;p
With each sheet, I could feel myself becoming more comfortable with this project: creating different patterns and shapes, going back to a row and adding other details or marks, becoming willing to free-associate shapes to turn patterns into eyes or trees or waves. There still wasn't really a plan, though with the multi-colored paper, it took a little extra forethought on which colors to use on which paper, as not everything showed up well. I had a test sheet of white paper that I used to make the first few marks (especially helpful when a pen was sort of dried out), which I would use to try to judge how it might look on the colored paper. A few times the marks where still pretty light (see the grey marks on the yellow sheet above). Still, that was part of the fun of trying things out in an intuitive way.
Now, time to scan the next group of drawings and hopefully get some more sketching done. And of course more Sailor Moon. That or The Magicians – I've been saving the last two episodes of the final season. I just…feel like if I watch those episodes, then the show is really over. ;__;
Til next time.