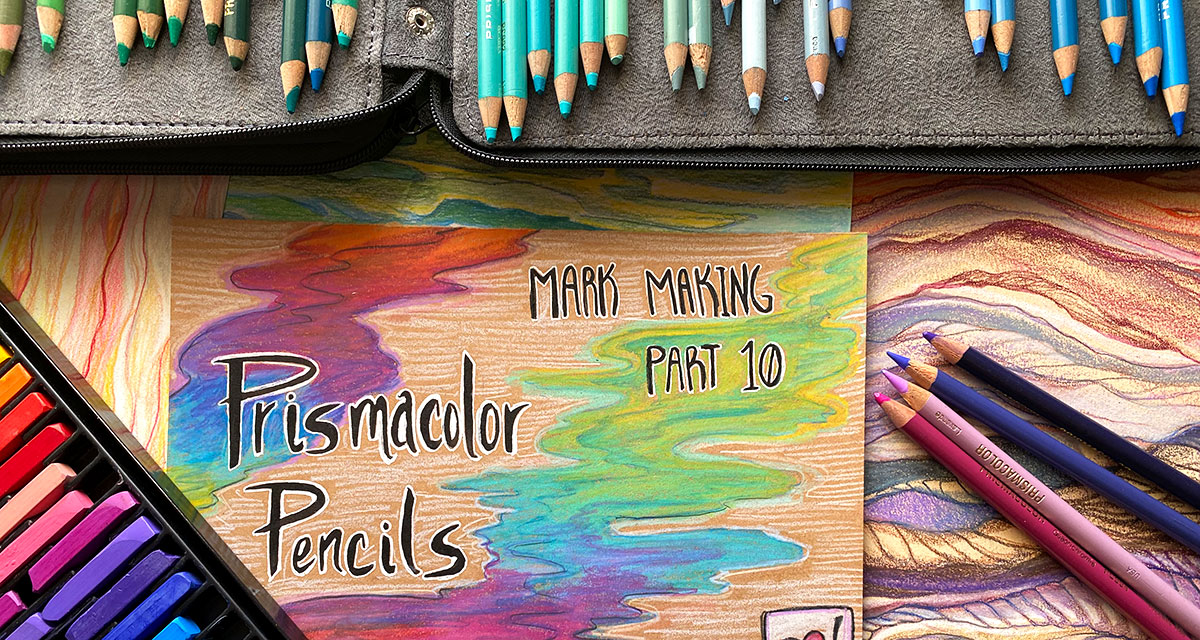 Mark Making Part 10: Prismacolor Pencils
Prismacolor colored pencils are one of my favorite mediums; I find them relaxing, perhaps in part because they are a medium with relatively minimal setup and cleanup. They also blend well over other mediums, like markers or watercolor, making it tempting to include them in other traditional art illustrations.
I keep mine organized by color in a large pencil case, which is a much better set up then my Copic marker situation of having all of them jumbled together in a photo keepsake box from Michaels (though at $3, the photo boxes work well enough for many of my art supplies. Plus you can label them within the pretty front plates!).
The biggest trouble with these pencils is choosing what sharpener to have on hand. The small metal ones seem to work best, as it's easiest to clean out any broken off pencil tips – which happens kind of frequently, given how soft the lead is. They do not respond well to sharpening by craft knife, unfortunately. Or maybe I'm still too heavy handed with sharpening by hand. ;p
These mark making experiments were pretty simple. I let myself relax and followed my intuition. I really like the color combinations in the first one: the light cream color of the card stock seems to glow next to the oranges and violets.
For the second drawing, I was thinking of cool colors and sea waves. It's meant to compliment the last drawing of warm colors and flame shapes, though I'm not really pleased with how that last drawing turned out. It feels much more static, as compared to the flowing, mountain-like shapes of the first drawing. Overall, though, mission accomplished of using all my Prismacolor pencils – and some Prismacolor art stix, which are basically the same material in woodless, stick form.
I have two more posts saved up: Col-Erase pencils and soft pastels, both from May. There are only a few more categories of mediums to go before I get into my brushes and paints.
This continues to be an interesting project: I thought it would be extremely fast and easy, as I tried to make it as simple as possible: take art supplies and make any kind of mark with them, until I use all the supplies I own (at least from a traditional supply perspective; I'm not yet sure if I'll include digital painting at the end). But rather than be simple and fast, it's actually brought into sharp focus my creative blocks, my excuses, and the other priorities in my life that draw me away from sitting down to practice art. It's a curious thing, simplifying a project to such a small ask, then seeing with such clarity how I've been blocking myself. That will be a post for another day, as I'm still sorting out in my mind how to work through my creative fears and blockers.
In the meantime, I've been enjoying the summer time by sketching flowers and quick nature studies. I've also been trying to fill a couple old sketchbooks so I can move on to a different one. Here in the Midwest, it's the perfect time of year to grab a sketchbook and go outside.
'Til next time!