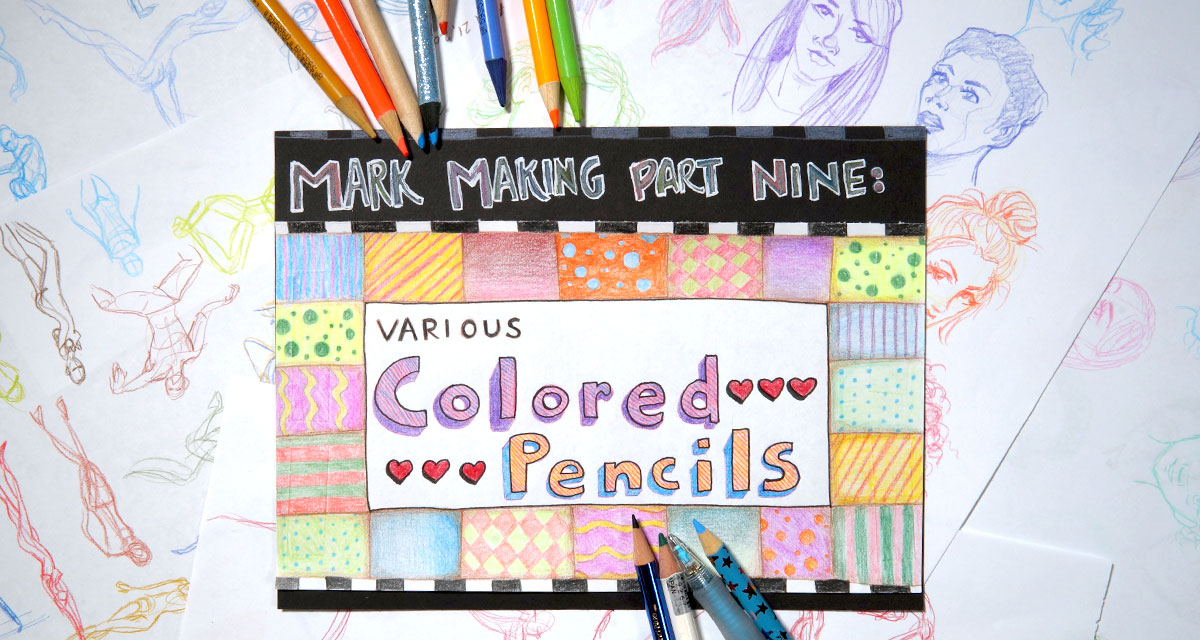 Mark Making Part 9: Various Colored Pencils
Continuing the mark making project, these drawings are from the end of April. The delay was in the scanning and cropping, ugh. Oh well! These were fun – I did one intuitive drawing piece first, which was a sort of surreal landscape. For the rest, I decided to follow the same path from my graphite pencils post and create gesture drawings with some stylized faces thrown in the mix as well. It was a lot of fun and quite relaxing.
The light pencils on dark paper was a nice challenge. It provides an opportunity for the pencil to add light to the forms, rather than the normal shadows created with graphite pencil on light paper. I didn't really accomplish applying the pencil marks in that way – it wasn't really possible with simple gestures that aren't focused on light and shadow. I did try it on some of the faces, but it was confusing. I suppose drawing on light paper with dark materials is so ingrained in my brain that I felt super, extra clumsy. But it's something to try out more of in the future!
On non-art related topics, it's Friday (yay!), so I'm planning to set aside some time for mark making in charcoal. I also want to watch the new "Cursed" show on Netflix, though reviews leave me a bit cautious. Even after a year, I'm still feeling burned by Game of Thrones season eight.
Otherwise, I'm in the middle of season two of Versailles, which I've enjoyed quite a bit. I randomly ran into a bit of info about the Marquise de Montespan while reading The Encyclopedia of Witches and Witchcraft by Rosemary Ellen Guiley, thus learning Montespan's fate and accidentally spoiling season two for myself. I tend to like spoilers, so it made me more excited to watch the season, hah. :p
I'm also so happy Critical Role is back and can't wait unit next week's episode. I didn't realize how much I was missing Critical Role on Thursdays! I'm glad they are pre-taping the show and being cautious with safety and distancing; I hope it continues to work out well for them and cast and crew stay well.
Now to read some more of The Tombs of Atuan and get outside later, assuming it cools off a bit the closer to dusk?
'Til next time <3