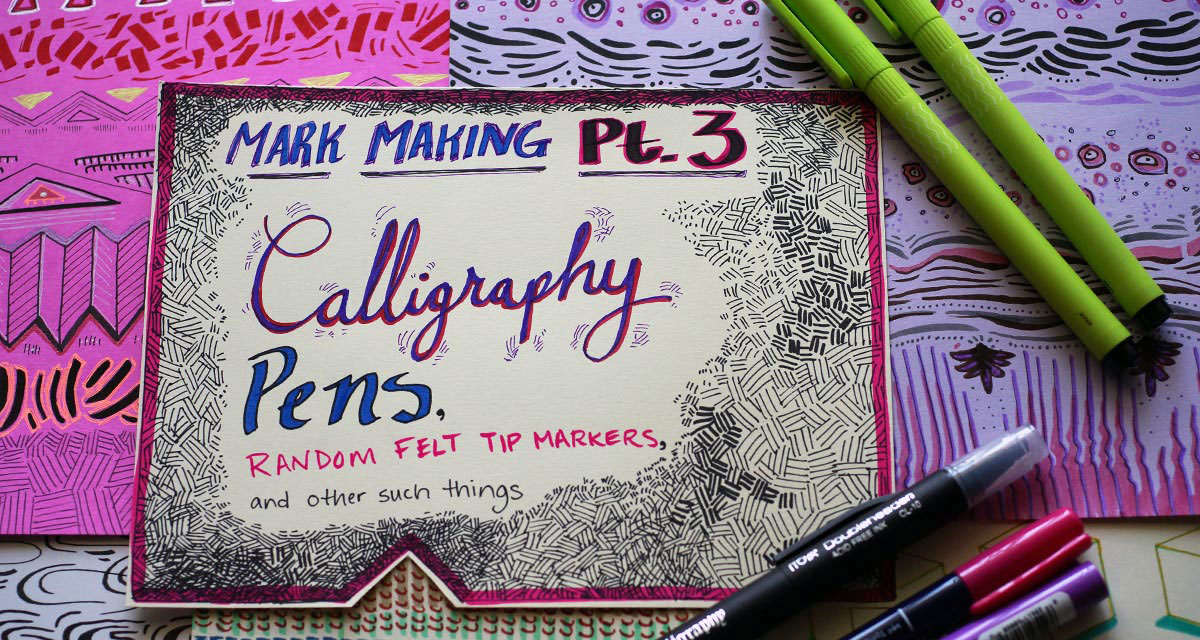 Mark Making Part 3: Calligraphy Pens, Random Felt Tip Markers, and Other Such Things
Calligraphy pens are one of those things I buy, thinking I'll practice fancy hand lettering techniques, and yet I never really get around to it. I have this vague notion that, as someone who majored in graphic design, I should be obsessed with lettering and typography, but my interests have always focused on web design† and illustration. Typography is intriguing to me, but that isn't a very high bar to jump: my curiosity can be peaked by pretty much any article on Wikipedia. It's no wonder my calligraphy pens don't see much mileage, if it was general curiosity that spurred me to buy them, rather than passion.
I do like typography, but contrasted with the sometimes messiness of painting and illustration, type design can seem so rigorously controlled. Perhaps I get my fill of standardization and usability (all amazing, great qualities, mind you!) during my day job as a web developer. When it comes to sitting down to fill a sheet with marks for fun, calligraphy is lower on the list. But still – aspirations led me to have a little collection of calligraphy felt tip pens and brush markers, none the less. And it doesn't hurt that any art supply is pretty much guaranteed to catch my eye.
In using them for the mark making explorations below, I didn't try to write any specific letter shapes, though I was thinking mildly of calligraphy writing drills I've seen in the past, as well as emulating little flourishes in a general way. I also had some more fineliners and markers, since my pens were just a bit disorganized.
After work today, I dove straight into sketching for about 30 minutes, then made some melted sandwiches for dinner: tempeh, cheddar, sauerkraut, onion, and spinach grilled on a cast iron pan. I served it with thousand island dressing as a sort of vegetarian Ruben sandwich (eh, sort of?), with frozen steamed veggies on the side. A yummy dinner overall††.
After, I immediately jumped back into the colored pencil intuitive sketch/mark making thing I'm doing. Took a slight 15 minute break to use the aerobic step while listening to my 'energy' playlist on Spotify. I am getting so out of shape. 🙁 I need to figure out a way to stay active while being stuck in my apartment during work all day. I got so into drawing, I had forgotten about a dance class I attend virtually at 6, *sigh*. But, hey – art was made and it was good.
Now to relax and give my wrist a break. I'm reading an older book: Below the Root, by Zilpha Keatley Snyder. I remember reading the second book in this series in high school and feeling SO confused, because I didn't realize it was the second book in a trilogy. So, we shall see if it makes sense, now that I own all three books.
'Til next time. <3
†Though of course, typography plays a huge role in web UX. It's just…my experience lies in curating fonts typographers have created, rather than creating my own typefaces from scratch.
††Usually Ricky is the one cooking us dinner. I, in turn, am the Take Out Food Queen. I…may kind of have a love/hate relationship with cooking. Mostly leaning toward the later. It just takes time and makes a mess which takes time to clean up and you have to be clever about ingredients or stuff goes bad before you can use it and just "Arrrggh". Mostly it's the time thing. I dream of one day enjoying cooking and baking, though. Fancy grilled cheese, however, I can do. ;3