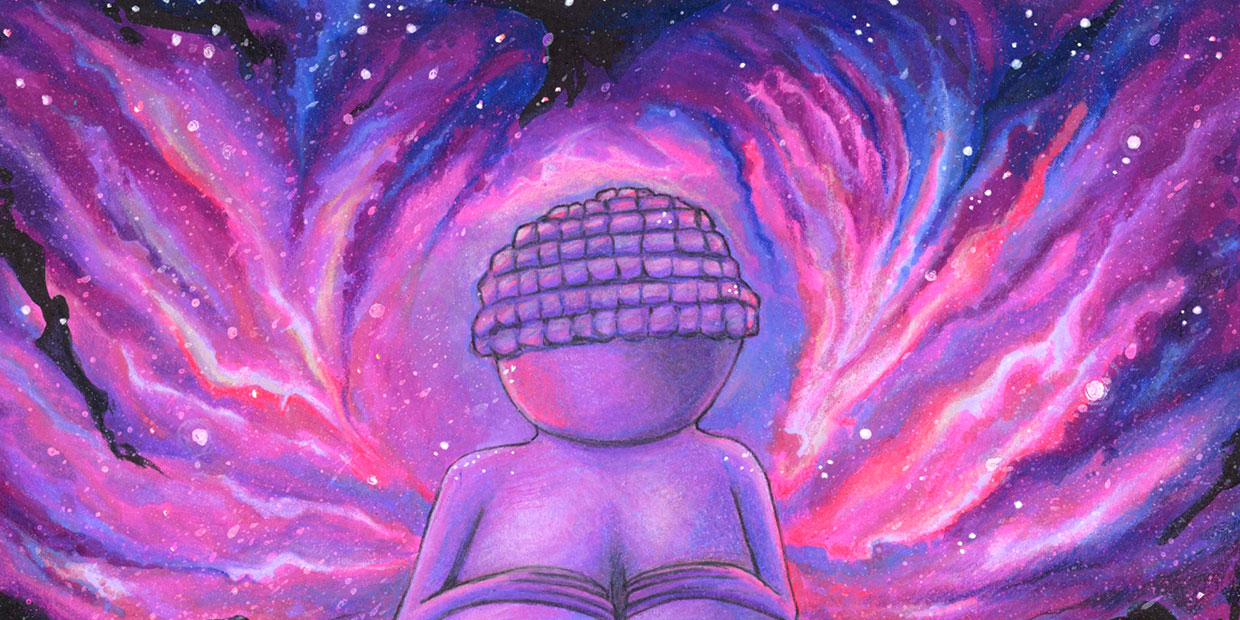 Lately, as this new routine of isolation and extra caution settles in, I've been turning to nature and spirituality for comfort and guidance. I wish it hadn't taken a crisis to help nudge me into this direction, as I'm realizing just how much I was missing having spirituality in my life as a primary part of every day. Spending more time in nature, reading books I've been meaning to get around to, journaling more (in my private, personal journal), tending to my altar: it's all been helping me to feel more grounded and centered. I'm feeling more motivated, knowing I'm trying to align many parts of my soul, including my artistic practice, with purpose and connection to a larger divine spirit.
I started practicing as an eclectic Wiccan back in 2004, participating in group meetings, meditations, and rituals during college. And throughout college art and Wicca were intertwined in my mind. After graduation, however, as I entered the professional realm of being a web developer, I cut myself off from my own spirituality in ways I didn't even notice. I still practiced meditation on and off. I still went on long hikes through the woods, albeit not as often as I would have liked. I still held ritual, but gradually that tapered off until it was once a season, then once a year. I even went to a Pagan pride event every couple of years or so. It was gradual, this silencing of spiritual expressions. It parallels my delays and procrastination of my artistic expressions. Recognizing how my art and my spirituality are intertwined is like learning to unlock a box I didn't even know existed inside my heart.
I'm grateful, then, that I've begun to realign myself within, to pause and listen to what I'm feeling and what I believe. I embrace having spiritual experiences more regularly.
So, on that note, and before I awkwardly ramble about this any further, I wanted to share a recent Goddess art piece I completed: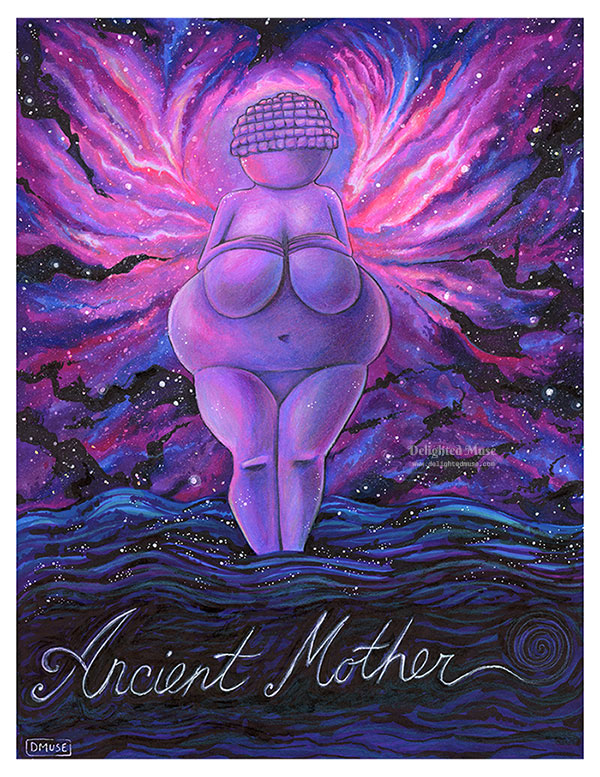 Originally, I started the above drawing intending only to keep it in my book of shadows and not share publicly. But as it progressed, I was pleased with the result and decided I wanted to share it here.
The central figure is the Woman of Willendorf, which for me is a powerful symbol for ancient Goddesses as well as a symbol for the drive to create works of art that has existed for so long within humans. I would absolutely love to travel one day to the Natural History Museum in Vienna and see the 25,000+ year old statue in person.
The words on the drawing ("Ancient Mother") are from a chant I first heard on the album by Alice Di Micele called "Circle of Women". I think I bought the album back in 2008 or 2009, when I was always hungry for new music to listen to on my hour-long highway commutes into my first web design job.
I wasn't sure the origin of the chant – sometimes it can be hard to pinpoint who wrote what Neo-Pagan music in the 70s and 80s. I recently found a 2018 post from the blog "Notes from the Far Fringe", where the blog author Kimberley notes that "Ancient Mother" is a Navajo chant. It's achingly beautiful: my favorite recording is version by Sacred Earth, which has a variation on some of the lyrics.
Well, I have a backlog of the "mark making" project pieces I'll be wanting to post. All the same, I am trying not to tend toward rigid control of what I post here. I tend to want to have a clear plan to follow, which yes, can be helpful in studying and practicing and creating. Yet freedom and spontaneity and responding to the present are also crucial to creative success. To flow with the present, both as an artist and a Witch. Yes, that sounds lovely.
'Til next time!