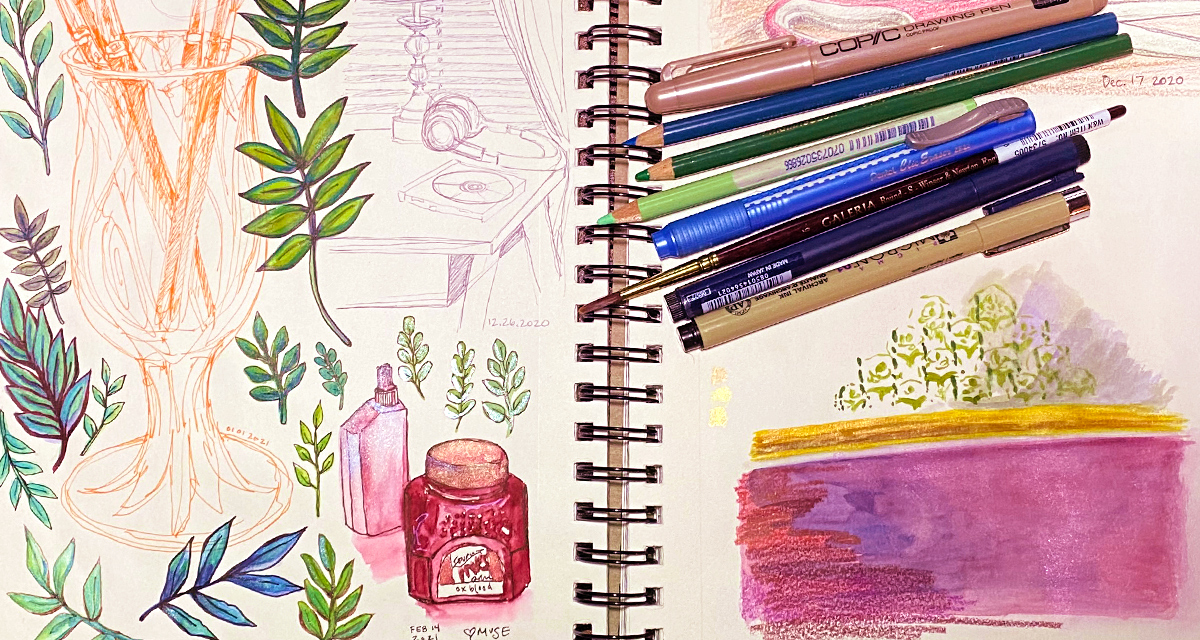 Sketchbook experiments: watercolor, colored pencil, and metallic paint
Well, of all the days I was sure I might skip out on painting or posting to my blog, today was it. I almost skipped online dance class — just feeling tired and anxious. I'm also stressed about the weather disasters happening around the country (and hoping things get better for so many people suffering this week). I decided that I wouldn't try to make progress on my painting from yesterday, but instead would experiment and try stuff out to better prepare for working on it tomorrow.
I painted leaves and layered Prismacolor colored pencils over the top – light colors and dark, then added various fine liner inks to sharpen up shape edges, went back in with colored pencils, etc. The darker green colored pencils seemed more subtle on top of light watercolor, while the light green colored pencil showed more of the pencil texture and seemed chalkier. These leaves were drawn around some of my previous sketches from December and early January, before I officially made this my current sketchbook.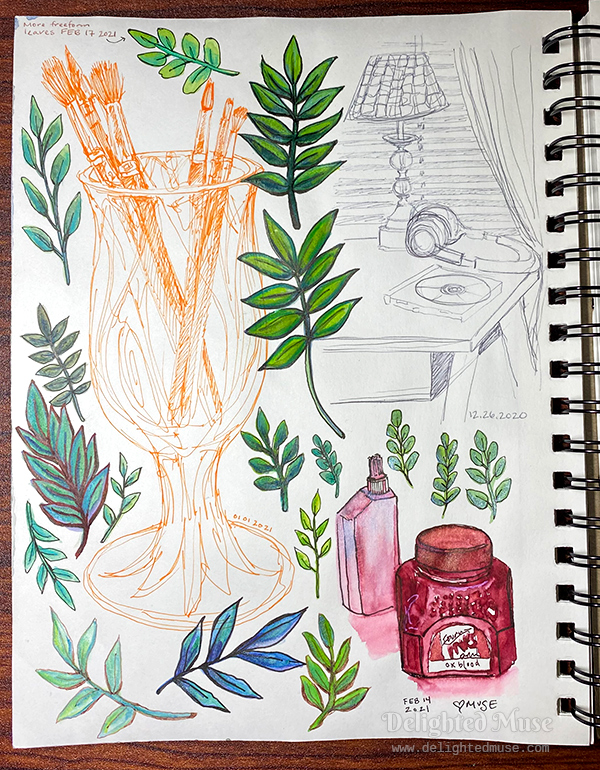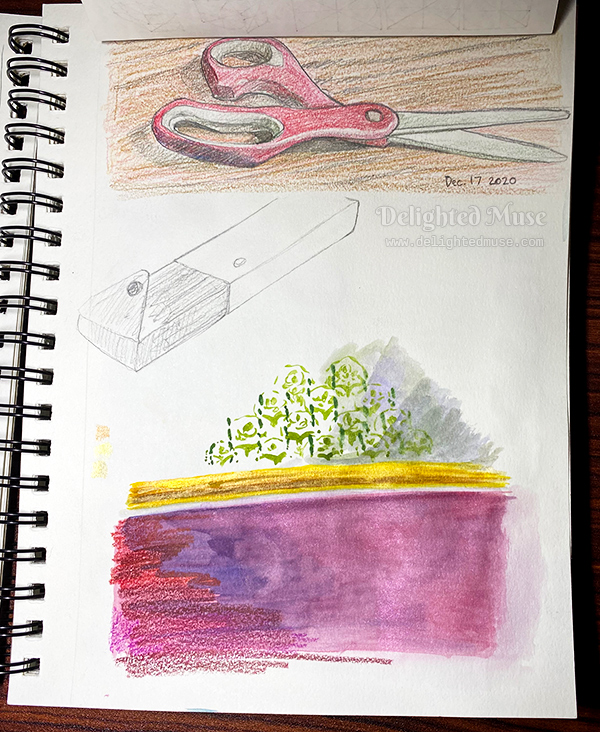 Spent time experimenting with layering metallic watercolor layers too – which I liked better than I thought – especially the gold. There's a bit of light blue metallic paint on some of the leaves, but it's hard to tell in the photo (*Grumbles about nighttime photography with only a desk lamp*).
I did a kind of repeat mockup of the carpet and wallpaper pattern to test out what layering shadows might feel like. Sadly… the wallpaper is going to bleed if I try layering shadows over it. It might still be worth it – I could possibly go back over the top of the pattern wherever necessary.
I agree with my previous assessment that the texture would be off if I tried layering too much colored pencil on the red carpet. But a little here and there like on the leaves felt subtle. I was surprised that the metallic purple paint might work as a layer on the carpet. This painting is going to turn out glittery, ha!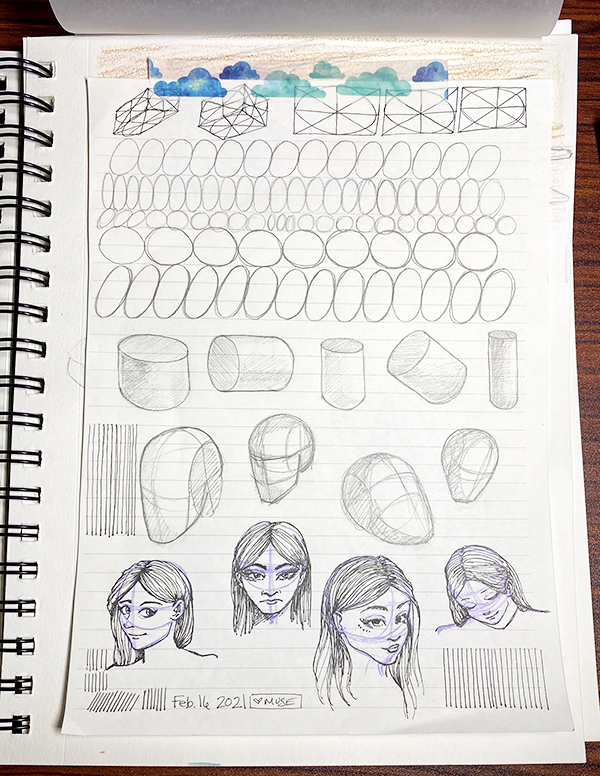 The other page taped into the sketchbook contains drawing drills I sketched yesterday with a mechanical pencil, and the faces at the bottom were inked with a School-G manga pen. I needed something to insert between the pages, as the older scissors drawing from December (drawn with colored pencils) was rubbing onto the opposite page. And then I needed another insert of tracing paper, so that the mechanical pencil wouldn't also rub off onto the opposite page!
Overall, helpful information gained today that I can use tomorrow. For tonight however, that's about all the energy I have to give to my blog and to art. Time to go take a shower, get some PJs, and call this a day.
'Til next time <3
P.S. – I found this CNN list on ways to help people in Texas, and used the Red Cross link to give a donation to help with disaster relief. It doesn't feel like enough, and it seems like more than ever we're all in our own isolated bubbles with the pandemic, but it felt like the right thing to do.