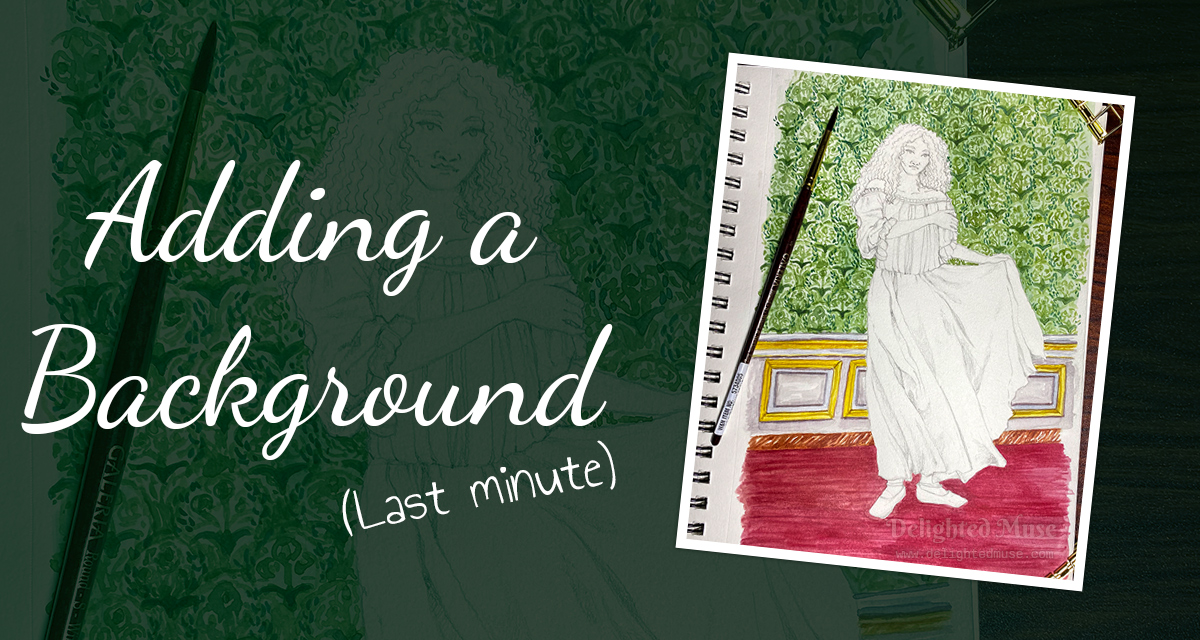 Adding a Background (at the last minute)
Well, I was hoping I'd be further along with this painting, but I became quite distracted with painting a soothing pattern in the background. I didn't originally plan this sketch/painting to have a background – it was more about studying cloth folds – but I decided to go for it. In my mind, the character was standing in the palace of Versailles in a chemise*. So it wasn't so much picking a background at random, in as much as it was trying to feel what would be around the character I had in mind. I also decided to make her expression a bit less melancholy.
I was thinking of Versailles, as I had been watching the very last episode of season three (of the Canal+ Series) while I drew the sketch yesterday. The wall paper design and wainscoting was referencing a photo of the Dauphin's Bedchamber at Versailles. The official website doesn't seem to have a photo, but I found several on Google image search. The red carpet was a bit of a mistake – at first I thought I would do a pattern as well (the actual bedchamber has a hardwood floor), but it was clear it would be too busy, what with the wallpaper. I'm hoping maybe I can either add darker shadows with another layer of watercolor or go in with colored pencils.
Now, however, I have to pause and be patient with this work in progress – it's 11:16pm and I need to go to bed.
'Til next time.
*I would feel remiss if I didn't add – the chemise was a mash up of two modern photos (skirt and top CC0 photos from Pexels), so it's not aiming for any historical accuracy. Perhaps that will be a topic of future sketchbook studies?