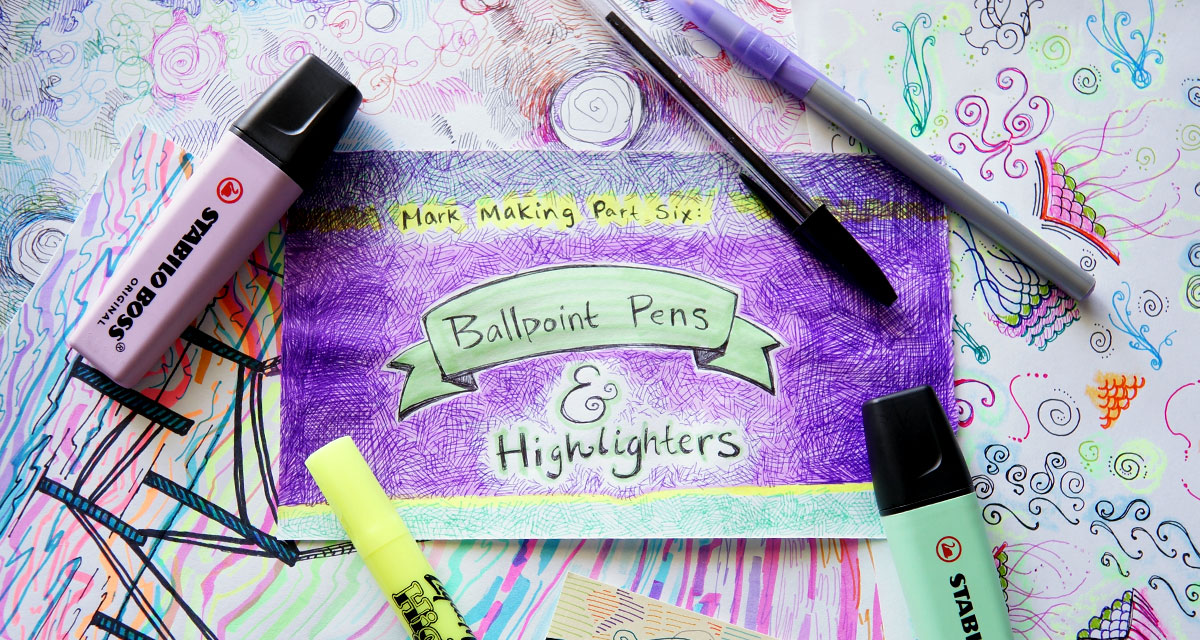 Mark Making Part 6: Ballpoint Pens and Highlighters
Today was a low day, not much to talk about. I managed to do some yoga in the morning after a long shower, so that was nice. Sat out on the apartment balcony and video chatted with my family. Read more of Below the Root. Sketched with colored pencil sticks (aka, part 10 of this project). Still have a headache from allergies. >_<
Today's post are the pieces I did with the pens kept with other office supplies such as tape and paper clips. I wanted to include them in this project because using ballpoint pens to sketch can be fun. I also have occasionally used a highlighter to add color to a sketch on the go. So, to me, pens and highlighters "count" as drawing tools. Plus it's fun, especially the bright chisel tip highlighters (Zebra Mild Liners, so cute!).
Obviously, non-archival, will change color with age, etc. That's okay though – not all studies are meant to last forever. This project has been helping me focus on the act of making art and the journey itself, rather than attachment to the end result.
I think I was loosest and most relaxed here, though I won't deny that on the last two I was kind of trying to fly through it quickly because I was ready to get to graphite pencils. As much as it's fun to warm up with ballpoint pens, I felt ready to start playing with my more neglected supplies (like charcoal, watercolor, etc.).
Now to go read more of Below the Root, drink some hot tea, and feed the cat. And hopefully draw more, because I'm starting to lose my head start on myself, eeep! I have 7, 8, and 9 ready to post (well… 8 and 9 need scanning/editing but the art is done, which is the most time consuming part!).
Til next time. <3